Family volunteering at CoCA
CoCA volunteer Jane Eddleston and her son Miles share their experience of the new Family Volunteering Programme and our Children Curate exhibition.
I have been a regular volunteer in the Anthony Shaw Space at York Art Gallery for two years now and I thoroughly enjoy it. Being around wonderful objects and talking to interesting people is the perfect combination, and even when the Gallery is quieter it is such a lovely space just to be in. Doing a weekly session fits in nicely with my part time job and home life, but having a school age child means I cannot always get away to come in during the school holidays.
Last November I had the opportunity to take my son to the Gallery with me as part of the Kids in Museums Takeover Day. There he was my buddy for the session, doing exactly as I do: greeting visitors, welcoming and introducing them to the space and generally being around to help. We both felt that was a huge success so following on from the fun we had that day, we leapt at the chance to take advantage of trialling the YMT Family Volunteering Programme and I signed us up for a couple of sessions in the Easter Holidays.
On our first session Miles was welcomed by Amy, he was given his lanyard, a welcome pack and an introductory talk – all exactly as I had when I joined the team. This was pitched just right and made him feel very much like a proper member of the team.
What makes the Family Volunteering even more perfect is the recent redisplay of the Anthony Shaw Space as Children Curate, where a Year Six class from Burton Green Primary were invited to choose their favourite pieces from the collection to be displayed alongside pieces they had made themselves in response to these choices. Looking at them all together it was not always immediately obvious which was which!
I am still getting used to the new pieces on display so in between visitors we used the interpretation folders to set about getting to know them and to test each other to find certain ones.
My son is nine, an ideal age to engage with visitors, and with it being the school holidays there were plenty of children amongst the visitors for him to talk to. Watching him interact with his peers, it was obvious they were all benefiting from it. He is very keen on art and crafts, so he took away plenty of inspiration for his future projects.
I think it is important for children to see their parents, especially their mothers, in other roles as well as a parenting one, and I certainly got a lot out of this new facet to my volunteering role too.
We will certainly by signing up for more sessions in the future and I am very grateful to have been given this opportunity. As Miles said: "I like spending time in the Art Gallery so now I know what it is like to work there. I think I'd like to do that when I'm older".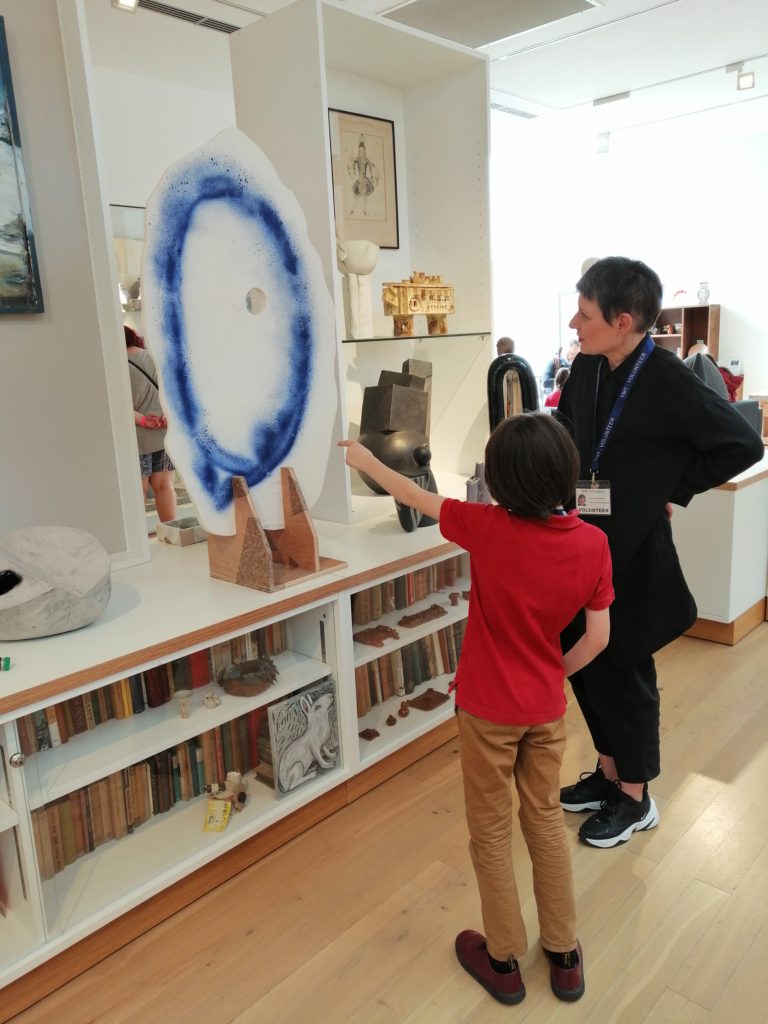 Rethink Ceramic Art