York Ceramics Gallery
The York Ceramics Gallery offers a range of work by contemporary artists working with clay, along with a selection of gifts, books, postcards and souvenirs related to CoCA and ceramics.
Below is a selection of artworks currently for sale. For more information on our pieces or to purchase please contact York Museums Trust directly on 01904 687687 or email  retail@ymt.org.uk
To celebrate the opening of our new exhibition 'The Yorkshire Tea Ceremony', we have been collaborating with Yorkshire-based artist Steve Booton to bring you limited edition tea bowls. Stamped with Steve's mark and with the distinctive 'CoCA' hexagon, they are available from the new, York Ceramics Gallery at York Art Gallery and via social media. When you buy one of the tea bowls you will also have the opportunity to purchase a signed copy of 'The Yorkshire Tea Ceremony: W.A. Ismay and his Collection of British Studio Pottery' by our Curator of Ceramics, Dr. Helen Walsh priced at £25
Based in Sheffield Steve Booton has had a long association with York Art Gallery, having been a supplier with us for many years. We are now excited to be working with him again on this new project, his natural and unforced approach to working with clay has proved extremely popular with our visitors.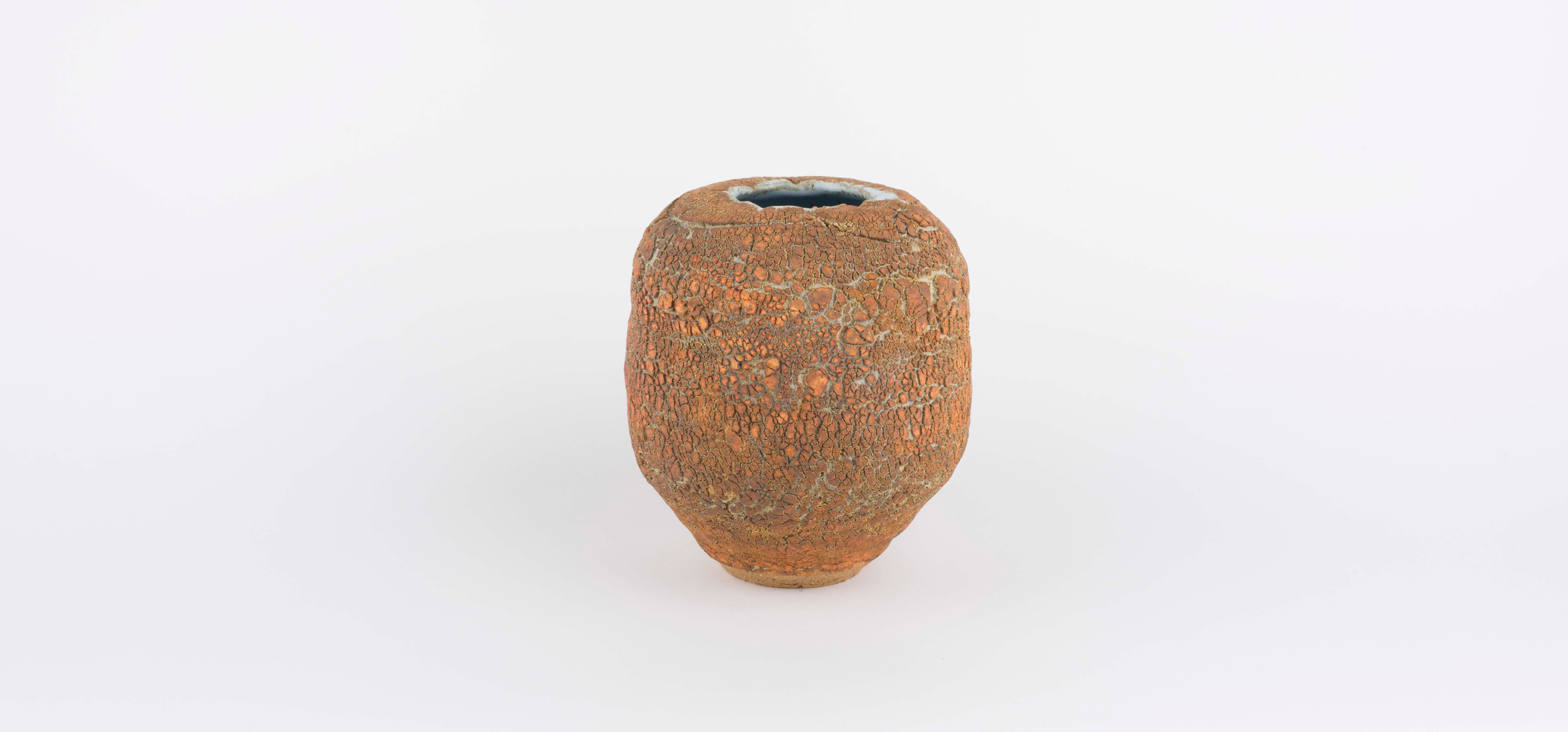 Terry Davis
Terry Davies has worked all over the world, and now lives in Tuscany. He sees his ceramics as a marriage of abstract and classical forms, and this vessel shows his technique of applying outward pressure on the clay during making, cracking the surface which becomes reminiscent of dry burnt earth after firing. The warm terracotta colour of this unique pot is very suggestive of the Italian sun! 
TD04   H17cms;  Diameter 13cms;  £154 
---
Maggie Zerafa
Maggie Zerafa studied ceramics in both Australia and Japan, and now works in her own studio on the Isle of Skye. The crystalline glaze effects seen in her work are the results of repeated kiln firings at very high temperatures, producing the shimmering surface of this blue Teabowl. 
H: 8cms, Diameter: 14cms 
£215
Please call 01904 687687 or email retail@ymt.org.uk to enquire

---
Ruth King – Sold
Ruth King is based in York and her work is widely collected both in the UK and overseas. Her simple-seeming ceramics are salt glazed, with a richness and endless interest to the surface when viewed.
Artwork: This small vessel, which Ruth has called 'Small Green Nose', is gently curved, with subtle tones of green, gold and blue in the salt glazed surface. H: 17cms  L: 18cms
£365
Other pieces available by the artist
Please call 01904 687687 or email retail@ymt.org.uk to enquire

---

Paul Young
Paul Young's work is influenced by English slipware traditions and European folk art. Paul is a fellow of the Craft Potters Association. 
Slip decorated shallow bowl, with dark foliage and blue flowers on a warm cream background.  Diameter : 27cms
£121
Please call 01904 687687 or email retail@ymt.org.uk to enquire

---

Steve Booton
Steve Booton is based in Sheffield and describes the forms his ceramics take as natural and unforced. 
Steve often uses simple tea bowl forms in his work, and this eye-catching chawan has gold brush strokes in squares alternating with the white undecorated ceramic surface.  H: just over 6cms 
£55
Please call 01904 687687 or email retail@ymt.org.uk to enquire

---
Darrell Milnes
Darrell Milnes works in Sheffield and his functional pottery is always popular in our CoCA Shop. 
This tall jug bearing Darrell's mark is part of a range of domestic ware, from sturdy mugs to large ash-glazed bowls. Darrell makes his own glazes so each piece has unique surface effects.  H: 22cms 
£70
Please call 01904 687687 or email retail@ymt.org.uk to enquire

Rethink Ceramic Art