Restating Clay Conference 2018
Restating Clay: Making, Learning, Communicating & Collecting Contemporary Studio Ceramics
19 & 20 March 2018 – Centre for Ceramic Art (CoCA), York Art Gallery, York
The Restating Clay conference brought together potters, artists, curators, academics, students, collectors, gallerists and enthusiasts from the UK and beyond to share experience and knowledge about the issues that matter to the sector.
The conference was generously supported by a grant from Arts Council England's Museums Resilience Fund and was a collaboration between York Museums Trust, the University of York and York College.
The conference programme was arranged around four thematic pathways, each introduced by an internationally renowned keynote speaker: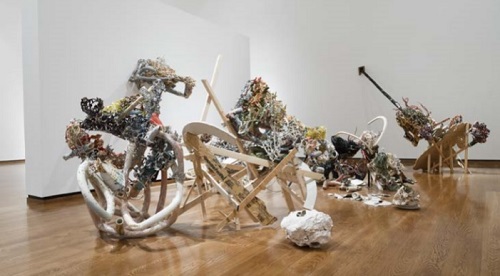 Keynote speakers and themes
The conference programme was arranged around four thematic pathways, each introduced by an internationally renowned keynote speaker:
Make/Promote/Collect – exploring ways to develop, promote and sell ceramics.
Keynote speaker: Garth Clark, preeminent curator, gallerist, writer and critic, currently Chief Editor for the non-profit CFile Foundation, a global online campus for contemporary ceramics in art, design, architecture and technology that broadcasts daily from Santa Fe, New Mexico.
 Adapt/Respond/Advocate – questioning the state of the discipline; opportunities, challenges and the future of contemporary studio ceramics.
Keynote speaker: Linda Sormin, artist-educator whose objects and site-responsive installations – exploring issues of fragility, aggression, mobility, survival and regeneration – have been exhibited internationally. She is Associate Professor of Ceramic Art at the New York State College of Ceramics at Alfred University.
Investigate/Reflect/Exhibit – examining approaches to researching, curating, interpreting and writing about ceramics.
Keynote speaker: Wendy Gers, art director and independent curator, internationally recognised for her pioneering research in the domains of ceramic art, design and theory. She is a founding coordinator of La Céramique Comme Experience (CCE) at the Ecole Nationale Supérieure d'Arts, Limoges, France.
Instigate/Educate/Nurture – considering teaching, learning, and professional development, to maintain and maximise creative practice.
Keynote speaker: Jennifer Zwilling, Curator of Artistic Programmes at The Clay Studio in Philadelphia. She joined The Clay Studio in January 2015 from the Philadelphia Museum of Art where she was most recently Assistant Curator for American Decorative Arts and Contemporary Craft.
Further Programme Details
Paul Greenhalgh, Director of the Sainsbury Centre for Visual Arts at the University of East Anglia, will introduce the keynote speakers and provide closing remarks and reflects at the end of the two-day event.
Other contributors include: Christie Brown, Shlomit Bauman, Steve Dixon, Susan Halls, Andrew Livingstone, Paul March, Phoebe Cummings, Eva Masterman and many more.
Please see the bottom of this page for the full list of contributors.
The conference is supported by PotClays.

Restating Clay Conference – Presentations
Death of the Artist: How to Make/Promote/Collect in the New Market