Restating Clay Conference 2018
Restating Clay: Making, Learning, Communicating & Collecting Contemporary Studio Ceramics
19 & 20 March 2018 – Centre for Ceramic Art (CoCA), York Art Gallery, York
The Restating Clay conference brought together potters, artists, curators, academics, students, collectors, gallerists and enthusiasts from the UK and beyond to share experience and knowledge about the issues that matter to the sector.
The conference was generously supported by a grant from Arts Council England's Museums Resilience Fund and was a collaboration between York Museums Trust, the University of York and York College.
The conference programme was arranged around four thematic pathways, each introduced by an internationally renowned keynote speaker: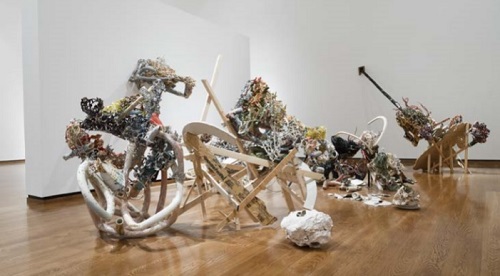 Keynote speakers and themes
The conference programme was arranged around four thematic pathways, each introduced by an internationally renowned keynote speaker:
Make/Promote/Collect – exploring ways to develop, promote and sell ceramics.
Keynote speaker: Garth Clark, preeminent curator, gallerist, writer and critic, currently Chief Editor for the non-profit CFile Foundation, a global online campus for contemporary ceramics in art, design, architecture and technology that broadcasts daily from Santa Fe, New Mexico.
 Adapt/Respond/Advocate – questioning the state of the discipline; opportunities, challenges and the future of contemporary studio ceramics.
Keynote speaker: Linda Sormin, artist-educator whose objects and site-responsive installations – exploring issues of fragility, aggression, mobility, survival and regeneration – have been exhibited internationally. She is Associate Professor of Ceramic Art at the New York State College of Ceramics at Alfred University.
Investigate/Reflect/Exhibit – examining approaches to researching, curating, interpreting and writing about ceramics.
Keynote speaker: Wendy Gers, art director and independent curator, internationally recognised for her pioneering research in the domains of ceramic art, design and theory. She is a founding coordinator of La Céramique Comme Experience (CCE) at the Ecole Nationale Supérieure d'Arts, Limoges, France.
Instigate/Educate/Nurture – considering teaching, learning, and professional development, to maintain and maximise creative practice.
Keynote speaker: Jennifer Zwilling, Curator of Artistic Programmes at The Clay Studio in Philadelphia. She joined The Clay Studio in January 2015 from the Philadelphia Museum of Art where she was most recently Assistant Curator for American Decorative Arts and Contemporary Craft.
Further Programme Details
Paul Greenhalgh, Director of the Sainsbury Centre for Visual Arts at the University of East Anglia, will introduce the keynote speakers and provide closing remarks and reflects at the end of the two-day event.
Other contributors include: Christie Brown, Shlomit Bauman, Steve Dixon, Susan Halls, Andrew Livingstone, Paul March, Phoebe Cummings, Eva Masterman and many more.
Please see the bottom of this page for the full list of contributors.
The conference is supported by PotClays.

Restating Clay Conference – Presentations
Death of the Artist: How to Make/Promote/Collect in the New Market
Past Tense/Future Tension: Igniting Inspiration through History of the Field
Beyond 'Ubuntu': Radical Curating and Research in Ceramics
Fierce Passenger: Inside-Out/sider
'Clay Fever' introduction 
Bill Ismay's collection of British studio pottery is one of the most important in the UK. Not only because of its scale- it contains over 3500 pots by more than 500 potters- but also because of the archive that came with it. Consisting of over 40 years of correspondence and related ephemera, the archive offers unprecedented access to the 20th century world of British studio pottery, helping us understand and use the pots. 
Whilst using the archive in my doctoral research on Bill Ismay and his collection, I became aware that some of the most long-lasting and entertaining correspondence was between Bill and the potter Michael Cardew, during their 25 year friendship. I was keen to highlight this resource during this conference and thanks to the generosity and enthusiasm of Damian Cruden and his colleagues at York Theatre Royal, the idea for this performance developed.  
Using my research, playwright Bridget Foreman has created a very sensitive script which uses real conversations between Bill and Michael, bringing them together giving an insight into their friendship. The performance has been directed by Paul Burbridge and Robert Pickavance takes on the emotional role of potter Michael Cardew and Robin Simpson dons the beret and magnifying glass of collector Bill Ismay. Starring alongside the actors are an array of pots from CoCA's handling collection. 
I'm delighted to be able to share my research and our collection with you in such an exciting way and hope you all enjoy 'Clay Fever'.  
Dr Helen Walsh, Curator of Ceramics. 
Thinking Critically: Writing about Clay
Uncanny, Uhygge and Unseen: European Folk Narratives in Contemporary Figurative Sculpture
A demonstration by Walter Keeler on Hans Coper's wheel
Wheel Thrown Animal Sculpture
Curating Clay: What are the challenges in 2018 and beyond?
The iron in our blood…
https://vimeo.com/428475336
Speaking in Shards
Opportunities, Challenges: The Future of Contemporary Studio Ceramics
Conference Reflections and Round-Up
…And Ceramic: Embracing Indeterminacy
A New Dialogue: The Interdisciplinary Potential and Application of Clay in the Wider Visual Arts
Contributors to the conference
Christopher Allison, Kay Aplin, Jo Ayre, Dena Bagi, Janet Barnes, Shlomit Bauman, Isabella Bilstein, Sue Blatherwick, Beccy Boxer, Laura Breen, Christie Brown, Helen Brown, Paul Burbridge, Kyra Cane, Carla Cevasco, Kimberley Chandler, Garth Clark, Phoebe Cummings, Jo Dahn, Julia Davis-Nosko, Zoe Dennington, Charlotte Dew, Stephen Dixon, Luke Eastop, Fenella Elms, Priska Falin, Helen Felcey, Doug Fitch, Bridget Foreman, Lucy Fulton, Wendy Gers, Grant Gibson, Alun Graves, Fiona Green, Paul Greenhalgh, Susan Halls, Joe Hartley, Joanne Hayward, Sue Herdman, Helen Hills, Walter Keeler, Stephen Knott, Peter Lewis, Andrew Livingstone, Paul March, Eva Masterman, Natasha Mayo, Hannah McAndrew, Amanda McDonagh, Alex McErlain, Ian McIntyre, Nathan Mullis, Tessa Peters, Penny Phillips, Ed Poxon, Robert Pikavance, Sara Radstone, Nick Renshaw, Catherine Roche, Anthony Shaw, Robin Simpson, Debra Sloan, Isabella Smith, Linda Sormin, Emily Stubbs, Rachel Swift, Adam Toole, Moira Vincentelli, Helen Walsh, Jennifer Zwilling.
Rethink Ceramic Art