CoCA Acquisitions – Patrick Sargent
Patrick Sargent (1956-1998) made several important contributions to the modern studio pottery movement. He produced outstandingly good pots, and explored innovative wheel and kiln designs.
Patrick wrote fairly extensively and very well compared to many other potters of his generation. He was born in Northampton, studied in Farnham, and then worked in Switzerland (he found it more economic to make work in Europe and ship it back to the UK for sale).
His work was produced in the Far Eastern tradition using the physically and technically challenging wood-firing and anagama kiln methods (in both cases, firings last days not hours). He designed and built his own type of climbing kiln in Switzerland, which he called 'The Mule'.
These two pieces were kindly donated to York Art Gallery's ceramics collection by Alex and Carole McErlain.
Teapot (1990) – YORAG: 2017.20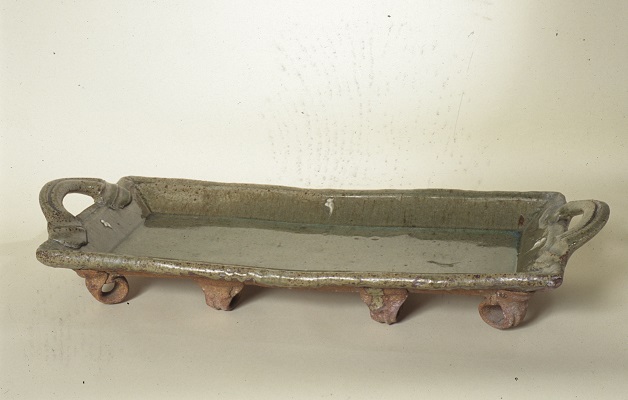 Tray (1990) – YORAG: 2017.21
Rethink Ceramic Art