CoCA Acquisition – Susan Halls
Susan Halls is known for her sensitive and characterful representations of animals, particularly dogs but also horses, birds, pigs, sheep and goats. Her practice involves making fast, impressionistic drawings of animals from life. She uses a combination of ceramic techniques- throwing and altering, coiling, pinching, folding and slab building to make the sculptures.
'Big Black George' is an important piece of work for Halls, as it represents her solving complex issues of how animals move and arrange their limbs. For Halls the name reflects the size and colouring of the piece and its character, revealing her affection for him.
Halls is a British-born ceramic artist who graduated from the Royal College of Art in 1990. After a residency in Banff Centre for the Arts, Canada, she set up her studio in London. She acted as visiting lecturer at RCA, Central School of Art, Manchester Metropolitan University, Bath and Cardiff.
In 1998 she married an American illustrator and moved to the USA. She exhibits internationally and through a commercial gallery in New York. Her work is not widely represented in the UK, but there are examples in Manchester Special Collections, the V&A and the Potteries, Stoke.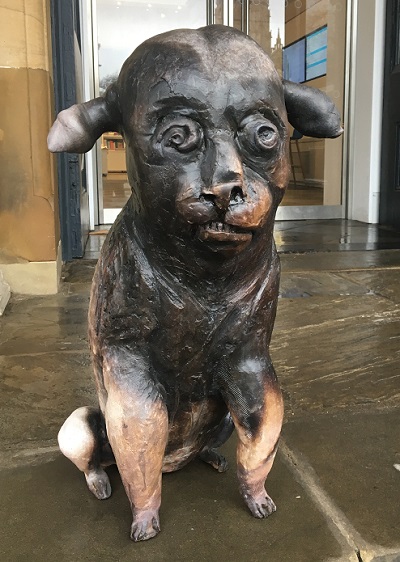 Big Black George (2006) by Susan Halls. Gifted by the artist. YORAG: 2018.9
Rethink Ceramic Art