PICASSO: Ceramics from the Attenborough Collection – A Major New Exhibition at York Art Gallery
18 July 2017
Ceramic works of art by one of the world's most famous artists, Pablo Picasso, go on public display at the Centre of Ceramic Art in York Art Gallery this summer (28 July to 5 November 2017). The new exhibition showcases highlights from the Attenborough collection.
Lord and Lady Attenborough began collecting ceramics by Picasso in 1954, after meeting him whilst on a family holiday in the South of France. At the time, Picasso was beginning to experiment with clay and produce his own ceramics at Georges and Suzanne Ramié's Madoura Pottery in Vallauris. The Attenborough's returned to Vallauris year after year, purchasing many more pieces and created the most significant private collections of Picasso ceramics in the UK.
The ceramics have been generously loaned to York Art Gallery by the New Walk Museum and Art Gallery, Leicester, by kind permission of the Estate of Lord and Lady Attenborough.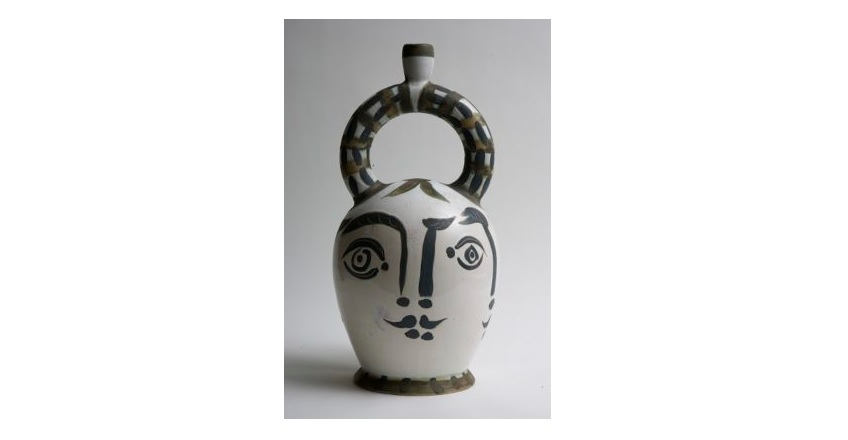 Pablo Picasso, Heads of Women, Aztec vase, 1957. Image by kind permission of the Estate of Lord and Lady Attenborough and The Leicester Arts and Museums Service. © Succession Picasso/DACS, London 2017.
Pieces in the exhibition were chosen to reflect the range of Picasso's own artistic interests and also reveal the taste of the collectors, Richard and Sheila Attenborough.
The collection will be displayed alongside some of York Art Gallery's British studio ceramics collection, offering the public the opportunity to compare and contrast the works of Picasso's contemporaries and those that were influenced by his work.
Helen Walsh, curator of ceramics, said:
"Visitors to the exhibition at York Art Gallery will be able to see Picasso's ceramics alongside the work of many British studio potters. This includes the work of those that came before and after Picasso. Perhaps they will spot shared concerns or similarities in interests between what may at first seem strange bedfellows.
"The loan of the works has been in the planning for a number of years and we are extremely grateful to the Attenborough family for agreeing to the loan and to Leicester Museums and Galleries for letting us have some of their prized pieces to share with our visitors."
One of the most significant pieces in the exhibition is Vase Aztèque Aux Quatre Visages ("vase with four faces"). The form was developed by Suzanne Ramiè, who took the inspiration from ancient Pre-Columbian portrait vessels.
Sometimes called stirrup heads due to the hooped spout on the top of the form, the Pre-Columbian forms tended to be modelled by hand to create a realistic head shape and were mostly male, very occasionally boys, and never women.
Picasso's female version of the portrait vessel is based on his wife Jacqueline and was thrown on the wheel in sections and then assembled to give a smooth finish.
The work has four portraits around the body of the pot, whilst the handle is painted to represent braided hair. Though a face appears on each side, Picasso cleverly painted them so that each adjacent face shares an eye.
This pot has some similarities with York Art Gallery's vase by Charles Vyse, which is said to be a portrait of his wife, Nell. Produced in 1935, it is double faced with handles representing arms, though this form is based on a Cretan Kore, a type of ancient Greek sculpture of a young female.
Pablo Picasso
Pablo Picasso (1881-1973) is thought by many to be one of the most influential artists of the 20th Century and is credited as co-founding the Cubist Movement with Georges Braque.
Picasso was versatile and prolific; producing work as a painter, sculptor, printmaker, ceramicist, stage designer, poet, and playwright. Though he spent much of his life in France, Picasso was born in Malaga, Spain, where there is a long tradition of painted earthenware pottery and he retained an interest in the pottery throughout his life.
Despite being interested in pottery since his childhood, Picasso was 65 when he began his exploration of the medium of ceramics. In 1946, he was introduced to Georges and Suzanne Ramié, who's Madoura Pottery in Vallauris, South of France, produced art pottery as well as domestic functional wares.
He struck up a friendship with the Ramiés and they, recognizing the value of working with such an important artist, agreed to let him work in their pottery. Picasso set aside his work in other mediums and concentrated almost exclusively on ceramics during that period; seeing it as a return to the origins of art.
Picasso was not precious about his work and was keen that it not be too exclusive. This view is demonstrated particularly by the work he produced using clay, which he allowed to be released in editions.
The production of ceramics in this way was something that the craft establishment at the time, viewed with great suspicion. However, Picasso himself said; "would have liked to take all these pots and drive them to market to sell them for 100 francs each."
Rethink Ceramic Art