Royal College of Art – Work-in-Progress Show 2018
Written by Paul Bailey
Each year the Royal College of Art in January has an interim show for the final year students called 'Work in Progress'. This is a chance to look at the work in production before the final year show at the end of June. It is a tempting snapshot of what that show will look like. Here we look at the work of just four of the students.
Alice Walton makes one off original ceramics, exploring complex and intense surface textures over simple forms which have been inspired by street furniture and architecture. The repetitive nature of mark making mimics the constant review of certain objects on daily commutes. To reference she combines collaged photography and drawing from memory which is bought into the studio to work from. This takes her work away from the literal street inspiration and into an imaginary collection of objects.
Eugene Chung's work attempts to rebuild and distort the context of existing daily objects through looking at their shape, form and function to create a sense of ambiguity.
Ian Thompson originally trained as a painter and his work relies upon the knowledge and experience of the conventions, particularly of European painting. The work is informed technically and to some extent iconographically by these traditions. His influences are extremely broad and eclectic and include a wide range of cultural traditions and references including academic and theoretical approaches. Much of the ceramic work involves painting with oxides, slips and engobes under transparent glazes in traditions similar to those of Korea, China and Japan.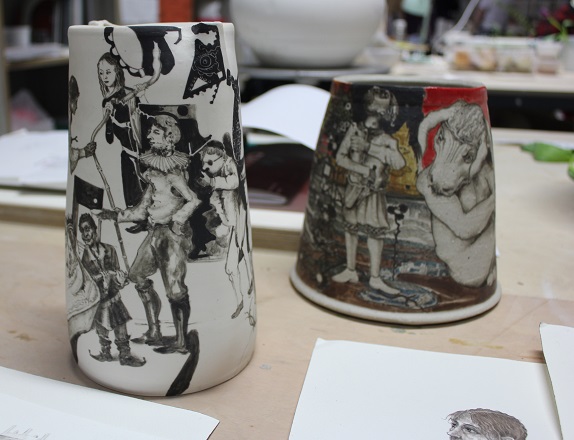 Judy McKenzie investigates Nerikomi, a process focusing on clay, coloured with stains and oxides, to create pattern and texture within the body of the material. When manipulated, the plasticity of the clay encourages movement, forming naturally soft or smudged lines within the designs, some of which are reminiscent of geological strata highlighting the natural origins of the clay.
Rethink Ceramic Art