FOUNT, AirSpace Gallery
FOUNT, AirSpace Gallery
Elena Gileva & Mark Malarko
23rd September – 5th November 2017
Words and images by Selina Oakes
Over periods of time, fountains have garnered numerous connotations – from sources of clean water and symbols of municipal status to sites of leisure and social interaction. In partnership with the British Ceramics Biennial (BCB), AirSpace Gallery has commissioned two artists to respond to the concept of public fountains – notably due to the fact that Stoke-on-Trent was once a major ceramic fountain manufacturer, and also because 10 minutes walk from the gallery is a well-known spot called Fountain Square. Ironically there's no fountain, merely a melancholic circular entourage of paving stones outlining the space where various incarnations have formerly stood.
Russian-born RCA graduate Elena Gileva departs from the comforts of stand-alone ceramics and experiments with the potential of clay in an immersive installation. In Cornucopia, visitors are invited to navigate their way through vividly coloured pools of blue slip – lain glistening and viscous across a laminate floor. These deep-blue pockets are playfully punctuated by nude-toned stepping stones and symbolic motifs such as a moon, a hand and an olive branch. These distinctive forms enable Gileva to remain loyal to her interest in the 'ornamental'.
Elsewhere, grey ceramic plumbing litters the space and leads the viewer's eye from ceiling to floor. As well as adding depth and height to the low-lying slip, these pipes, with their industrial aesthetic, are suggestive of the infrastructure and administrative components that regulate a city and public space. However, instead of being cold and metallic, these pipes are imperfect – curved and chunky, they challenge the regimented appearance of functional piping: they critique the conventions of both their real-life counterpart and traditional ceramic processes with irregularity.
At the head of the installation is a large-scale 'horn of plenty', which is divided into three segments. Its gilded interior exudes richness and abundance, and yet the clay slip within it appears sparse and drained: it is left to the viewer to activate the work as the symbolic water begins to dry up. Members of the public are invited to make the precarious journey across the ceramic stepping-stones, suggesting alternative pathways and junctures for communities. While the liberating motion of water is not quite achieved, the work's imperfect nature questions what value public fountains – which are, for the most part, manmade structures – bring to city inhabitants.
Colour is a driving force in FOUNT: urban artist Mark Malarko's The Water in Majorca Don't Taste like What it Ought to is a chromatic haven with references to popular culture. A mod-rock archway – precariously dotted with glazed and headless miniature Mr Blobbys – marks a transition from Gileva's poetic mythological landscape and into Malarko's more rough and ready public enclave. Uneven and mottled in a Franz West style, the arch is adorned with lush pastel gradients which emphasise the structure's scale and ruggedness. Two 'fishy palms' – Yucca trees decorated with plastic fish, tin-foil and fluorescent gravel – reinforce the installation's reference to both water and commerce.
A central floor-mosaic stating 'The Fire Burns Upwards!' inverts societal hierarchies and promotes grassroots initiatives through its assertive message which invites viewers to become participants rather than mere spectators. While the comfort of a featured brutalist breeze-block sofa is questionable, its temporality inverts the essence and aesthetic of conventional public space. Instead of admiring a grandiose ceramic fountain that sits high above us, we are asked to collectively consider the fabric of public space as a misfit scenario that is – or should be – social, malleable and unpredictable.
It is only until we reach the rear of the gallery that a functioning fountain is visible: it is short, squat and made from poured concrete with a 'Costa del Hanley' counter-relief and three terracotta 'Biscuit Dog' each spouting water. Adjacent to this is a bronze-cast cabbage bowl – a familiar design from Stoke-on-Trent's pottery heritage. Sturdy and metallic, the bowl bubbles with mist to mimic a burning fire-pit – another reference to meeting points, plurality and community. Delicate, hastily made cups and pots are scattered throughout the installation to emphasise the notion that public space should feel something like 'home'.
Gileva and Malarko respond to the Gallery's call-out in very different ways: Gileva draws on her technical training in ceramics to produce fired and glazed ceramic motifs that symbolise her own public space ideals. Yet, while she challenges the boundaries of clay by testing the longevity of wet, pigmented and oil-infused slip, her installation remains highly ornamental – similar to that of a stately public fountain whose aesthetic is valued more than its functionally. Still, its strength lies in its portrayal of connectivity: her motifs are joined by the sea of blue slip, and the notion of 'meeting points' is implied through the placement of stepping stones.
Malarko's interpretation of city fountains and public space is much more playful. He is abrupt with his medium, casting pre-existing forms and incorporating mass-produced objects in order to communicate the value in ad-hoc public spaces. As with Gileva, Malarko's work is also ornamental – but while the Yukka plants and Mr Blobbys are decorative, items such as the concrete furniture provides audiences with a place to sit; the bronze cabbage-bowl and Biscuit-Dog lend themselves to functioning fountains; the cups can actually hold a cup of tea; and the mosaic, though aesthetic, represents a central table or hearth that ultimately brings people together.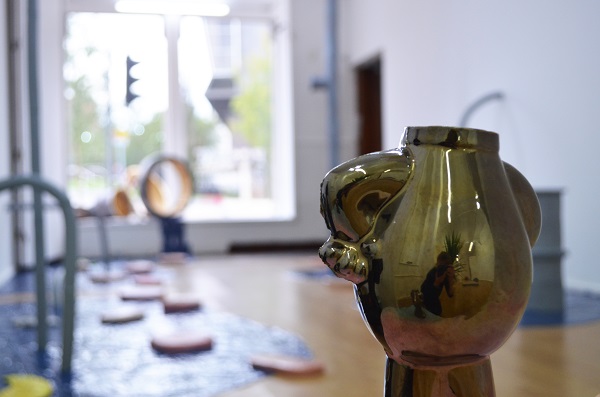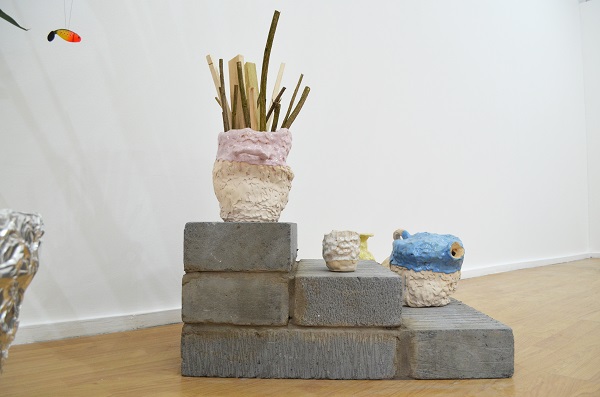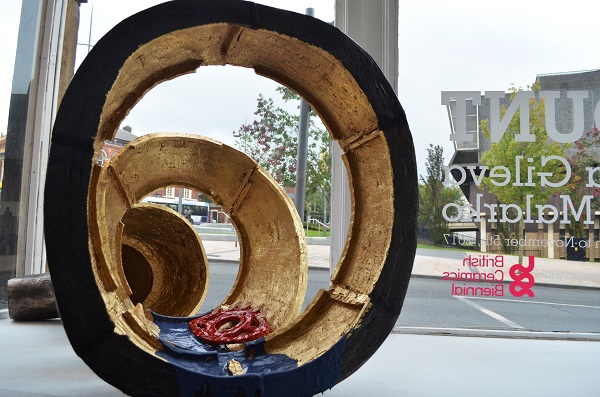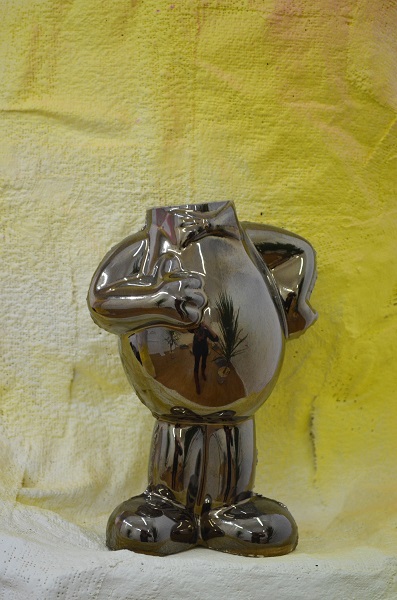 Rethink Ceramic Art