City Lit Ceramic Diploma Students – June 2017 Graduates
Based in the centre of London, City Lit is the largest adult-education college in Europe. The vibrant Ceramics department offers a wide range of learning from complete beginners courses to advanced workshops.
The flagship course is the two-year Ceramics Diploma, designed to equip students with the knowledge and experience to set up as professional independent makers on graduation. Running for almost 30 years, the course is taught by a team of renowned ceramic artists.
Below we showcase the work of the latest graduates. They graduated in July 2017, exhibiting both at New Designers (the annual graduate design show at the Business Design Centre, London) and in a group show at the Candid Arts Gallery in Islington.
As Sara Radstone – one of the Diploma tutors – put it in the Candid Arts show programme:
"Ceramics is the art of transformation. Through an intensive two-year programme, the City Lit Ceramics Diploma Course seeks to challenge and nurture talented makers, encouraging personal development and innovation within a project-based structure that embraces technical tuition, material experimentation and contextual studies, alongside expansive research.
"These artists have committed themselves to study, explore and expand their practice, and the skill, depth of knowledge and breadth of expression evident here testify to this dedication. Clay, concept, fire; a sintering of molecules, ideas and discovery, the living language of ceramics enriched and enlarged, the individual transformed."

CLARE PALMER
My work draws on personal experience. My latest body of work, 'The Hostage Taker Within', is an exploration of depression – which began for me as postnatal depression – with which I have struggled for the past 9 years. Each piece is an expression of my experiences of this illness. I work in stoneware and porcelain using a mixture of oxides, slips and engobes, before glazing. My work is either made on the wheel and then cut, joined and distorted; or from slabs that are pressed into moulds before constructing.
www.clarepalmerceramics.com
instagram.com/clarepalmerceramics
clare@clarepalmerceramics.com
MAREK PITERA
I handmake functional stoneware pottery that is designed to be used and loved. Hidden and unexpected beauty and shape in the natural and human worlds inspire forms. The surfaces are completed by a process developed from a fusion of traditional East Asian and modern sculptural ceramic glazes and decorating techniques.
www.marekpitera.uk
instagram.com/marekpiteraceramics
HENRIETTA MACPHEE
"Henrietta MacPhee is a ceramic artist whose work stems from exploring the exotic. Through a fresh child-like perspective of the world, she portrays social scenes of poetic tenderness and humour. Her work interweaves metaphors for embracing life's diversity of peoples and their cultures. She likes art to be playful, representing an innocent relationship with the material form."
www.henriettamacphee.com
instagram.com/etta_mac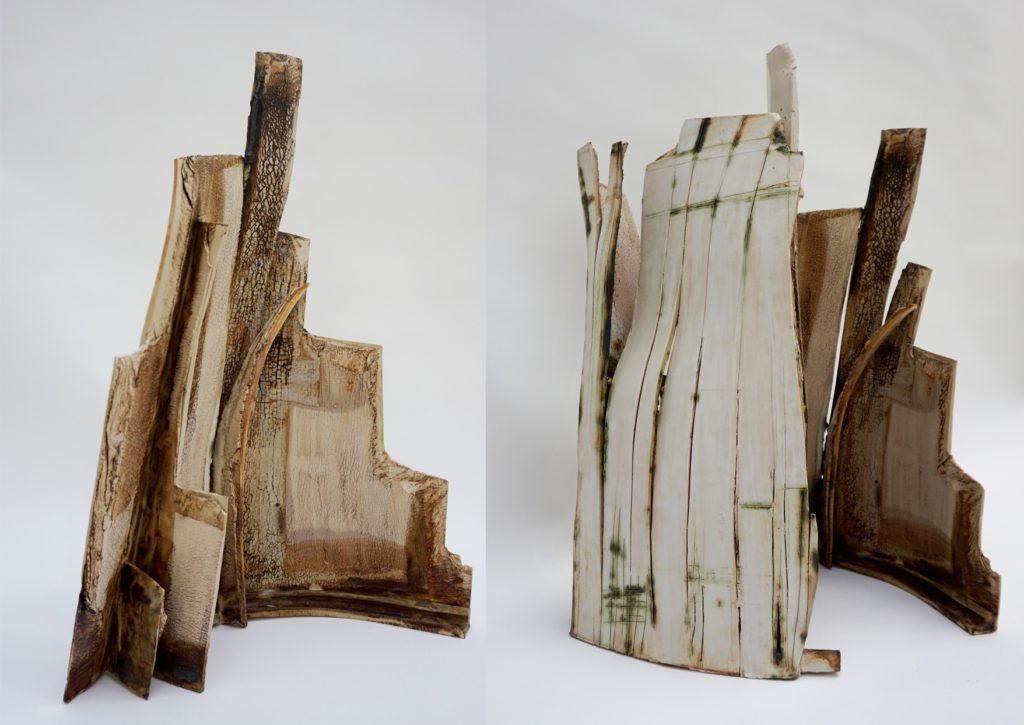 CHRISTINA LORENZET
This piece is titled 'Cutting, Drawing'.
www.cristinalorenzet.com
cristina_lorenzet@hotmail.com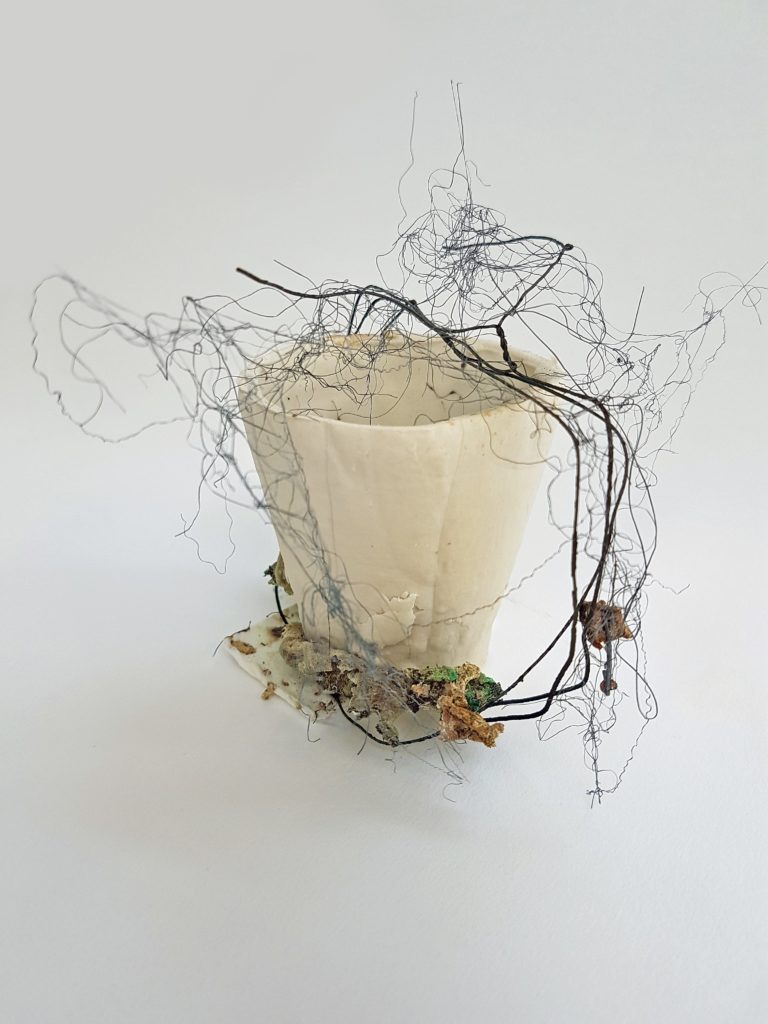 ANN CORBETT
This body of work has emerged as my response to the demise of coal-mining in the valleys of South Wales. As the industry grew, the landscape and society were transformed. As it declined, the industrial infrastructure was destroyed and the community mourned a loss of purpose and way of life. I use slip-cast porcelain, fired in saggars along with other substances such as metal, paper, fibre glass and organic materials from the Welsh hills. The work is often partially destroyed in the making and continues to decay once out of the kiln. The pieces suggest the transience of progress and the fragility of human life. Each vessel piece is named after an individual coalmine.
contact@anncorbett.co.uk
www.anncorbett.co.uk
instagram.com/anncorbettceramics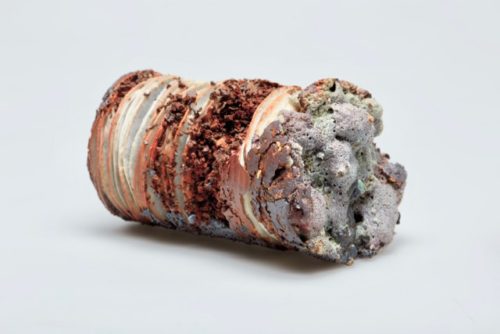 ANNE-LAURE CANO
I use clay to explore untold stories. I am interested in our quiet negotiations with personal legacy and emotions that make who we are. I am particularly drawn to exploring our response to experiences such as memories, loss, and sense of belonging. In my recent work, I have been looking at the themes of conflicts, displacement and the loss of continuity with one's individual and collective past. I create abstract objects that draw the viewer in through a combination of familiar details with unexpected elements. The final pieces carry intriguing narratives which prompt us to probe our emotional experiences.
www.annelaurecano.com
instagram.com/annelaureceramics
twitter.com/AnneLoCeramics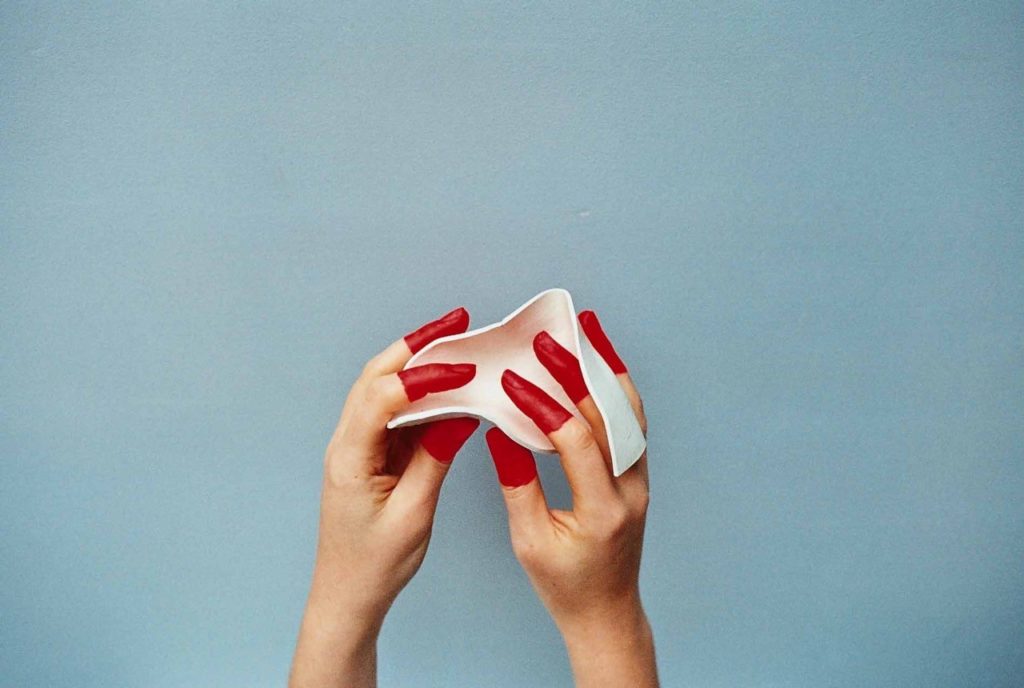 ELLA PORTER
www.ellaporterstudio.com
ellaporter@me.com
JANE WALLER
I walk daily; on Wimbledon Common, the beaches of North Norfolk and Cornwall and more recently along the River Thames near Oxford. I collect flotsam and jetsam and incorporate these textures, colours and shapes into my pieces. On one of these walks I found old glass bottles in the window of a shed in Cornwall. This and my love of people has inspired the 'Figurative Pots' collection. Each pot is an individual, but the interaction between the pots is just as important as the pot itself. It is up to the viewer how best to place the pieces as they see fit.
janeowaller@me.com
www.janewelchceramics.co.uk
twitter.com/janeowaller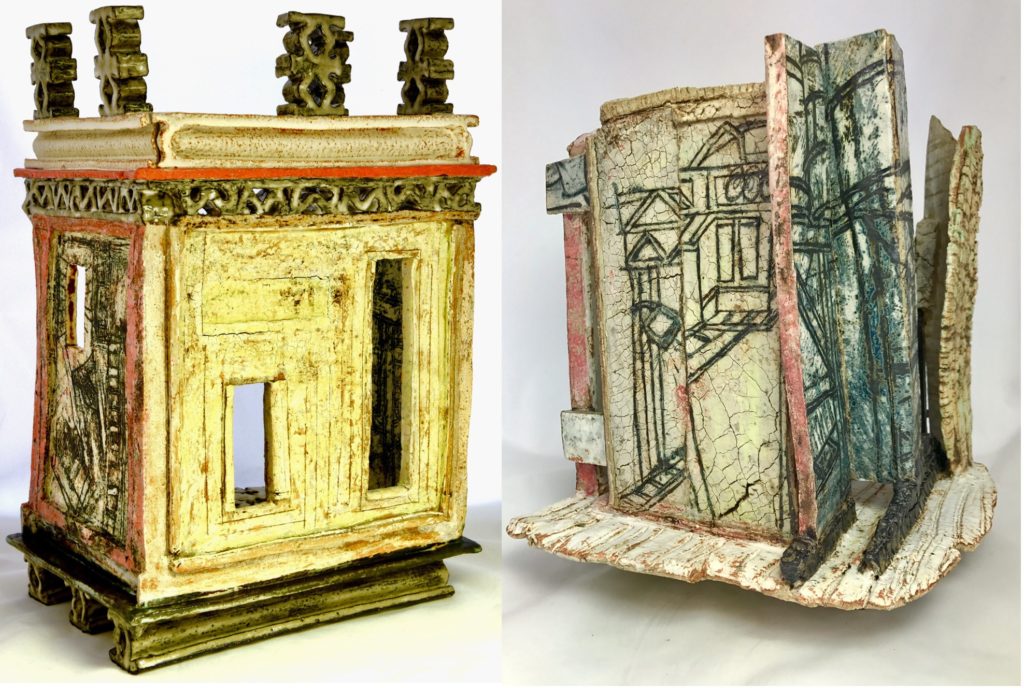 ARABELLA ROSS
The surface qualities of my glazed work are closely linked with my painting and printmaking. When mixing my glazes I often spoon in the oxides and powders that I have learnt from experience will give me a richness that I am seeking. While constructing and assembling my sculptures I work intuitively, piecing together and creating clay collages. Travels to India and Japan influence the natural, earthy qualities in my clay sculpture where I use a subtle ceramic colour and coarse textures made by throwing the clay onto the ground. The narrative for my work in clay begins with a process of layering; creating slabs and painting them with a white slip overlaid with oxide drawings and colour. I draw on imagery of exposed and sunlit interiors, rooms with peeling paint, abandoned industrial factories and mono-printed clay echoing childhood drawings attached to kitchen walls and doors. Within the vessel as contained space and identity there are visual clues to windows, room shapes, doors and artist's easel.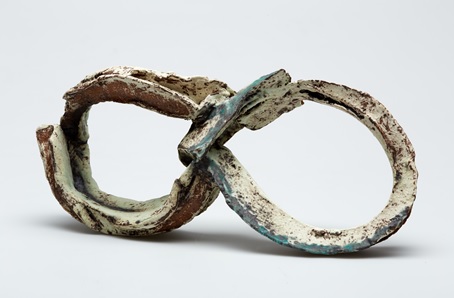 SHARON REED
My story is life's cycle of arising and passing away, a journey and a mystery, an interplay of strength and fragility. One moment we feel powerful, the flow of energy sparking our creativity, driving us to achieve; in the next we are in touch with our own fragility, our lack of control, our mortality. I carefully tend my creatures with binding and sewing, wrapped forms cocooned in clay and fired. Their cosy domesticity transformed into a darker, more primal energy. I draw with clay, setting up conditions for something to reveal itself… I find in my imagination objects that appear familiar, ignite an elusive memory: once useful, cherished, the patina of age has damaged them, made them beautiful. We shiver with our own mortality, travellers on the journey of life with its unpredictability, its strength, its power, its joy and its vulnerability.
instagram.com/sharonreedceramics
sharonreed494@gmail.com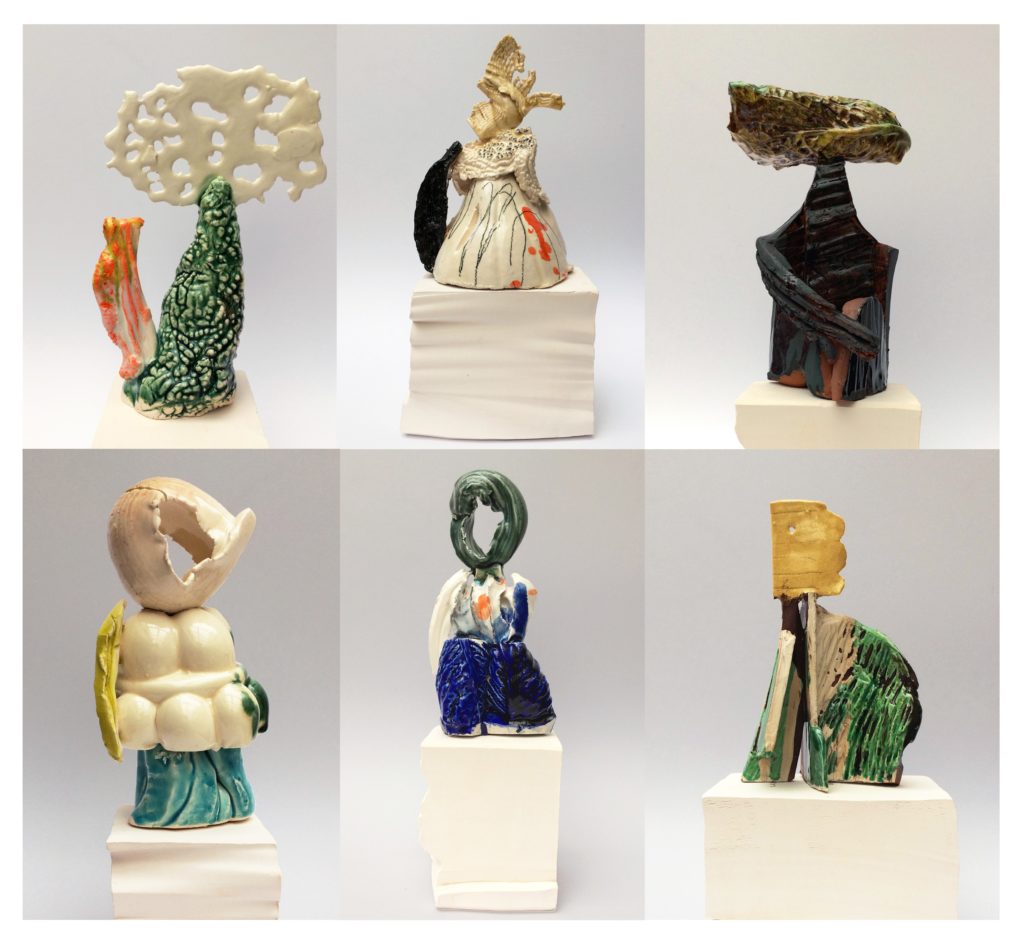 AUDE VAN RYN
Sketching with clay, A cut out shape, a bendy extruded piece, a thrown form that collapsed, I play and compose with shapes and pieces that would often be discarded around the studio. I tend to work intuitively, sketching with clay, creating my own visual vocabulary. My head is populated with many creatures, people, animals, abstract and architectural shapes with arms and legs varying in scale. The pieces are loosely inspired from the travels I had the opportunity to do, in Africa and other countries around the world. Carrying sketchbooks along, collecting memories colours and textures. This has become a backdrop for the sculptural work produced recently.
audevanryn@gmail.com
www.audevanrynceramics.com
facebook.com/Audevanrynceramics
instagram.com/audevanryn_ceramics
Rethink Ceramic Art