Ceramic Art London 2019: A Retrospective
Looking back to 2017, Ceramic Art London (CAL) attracted ticket sales of over 2,167 people, but now in 2019 some 5,500 plus people attended this three day event.
If the Crafts Council show 'Collect' represents what the commercial galleries are selling, then CAL from the Craft Potters Association is the showcase for a diverse range of eclectic work. It is perfect for those looking to buy ceramics or just browse too.
CAL is also blessed with a superb venue in the main concourse area at Central Saint Martins, in the centre of London. The enthusiasm of the public is still growing and over three days it had sell-out attendances.
This year, makers from the Isle of Skye, Germany, Spain, Ireland, France, Austria, and the Netherlands joined those from England, and further afield Japan and South Korea were represented. In total there were 91 individual stands and makers.
Often overlooked in reviews are the series of talks given by inspirational speakers. This year was no exception, with the headline talk by Kate Malone on her working trips to South Africa and India.
It was with some delight that, for the first time, the young studio called 'Collective Matter' inspired the audience with their projects for the Tate and one called 'The Potting Shed'. The collective is Mary O'Mally, Katie Spragg and Eva Masterman.
The show has an international influence and this year there was again a strong contingent from the Republic of Korea. I can only presume this is due to the hard work of the Crafts Council in promoting the sector in the Far East.
Returning for a second year is In Ho Song. I asked him how his work is classified in Korea and he explained that it is very much outside of traditional ceramics.
People mainly call it 'Pop Art' ceramics, but in practice it is more aligned to underground comic images. He commented:
"My work expresses imaginary animals. It's based on a traditional funerary figure, Kkokdu, which is a witty human shaped figure, known for sharing happiness with the passed ones".
In Ho Song continues to live and work in Seoul.
Another maker retuning for a second time is Verity Howard. For the past year she has based her work around the documentation of Alfred Watkins, a naturalist in Hereford in the early 1900s. It is also the area in which she lives.
The title 'Sacrificial Stone' came from one of Watkin's maps drawn when researching into his theory on Ley Lines.
She commented on the work:
"Using the words 'Sacrificial Stones' as a starting point, I want to conjure up a mental image and a feeling of something that may never have been seen before. Through the medium of clay I am creating physical ceramic works".
In contrast, Daniel Boyle produces salt-glazed wood-fired ceramics. He makes one-off salt glazed stoneware pieces exploring unconventional firing processes to enrich his thrown pots.
Vibrant slips and ash glazes are used to encourage the firing process to leave its mark on the ware, developing texture and movement within the fluid glaze.
It is difficult to pick-out just a few people from such a range of very talented makers, and I hope that many of them will return next year.
Some have graduated through the New Designers show, another wonderful showcase. It still remains a place where the public can talk to the makers and hopefully add to their collections of work.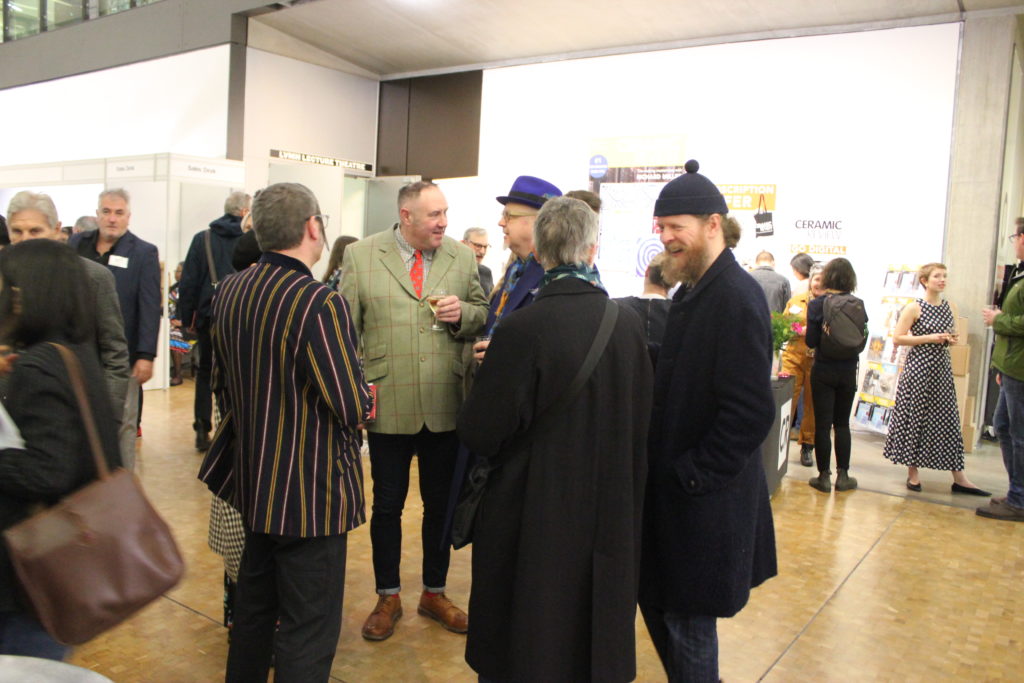 Paul Bailey produces Emerging Potters online magazine and writes on modern ceramic makers. You can contact him on Paulbailey123@googlemail.com
Rethink Ceramic Art